Welcome to our forecast for Interior Design 2022. Somewhat expectedly, this year's conversation has shifted quickly from pandemics to vaccines to natural disasters with the speed of a hummingbird. While it is amazing, it has spurred a lot of challenges and adjustments in many industries, namely lack of availability and increased shipping times for products. We try to address these through a lens of positivity, patience and new ideas for sourcing materials locally and sustainably.
We are all becoming more aware that nothing is permanent, which is resulting in a focus on being more intentional with our surroundings. Interior design needs to support our wellbeing, provide sufficiently transitional spaces and stimulate optimism. Due to these observations, the power of colour is gaining ground in interiors. You will notice interiors evolving away from white and gray minimalism to warmer neutrals with punches of colour and an eclectic mix of styles and finishes. There is no "one look fits all" anymore, 2022 is about embracing the idea that anything goes!
Sherwin Williams has developed 4 vibrant schemes that can be thought of as jumping off points for creating a space that is uniquely yours. My favorite of these is Opus and I have put together a scheme based on its palette. The vibrant colours and variety of details in this scheme can be described as luxurious, opulent, mysterious and theatrical. It delivers a bold eclectic mix that happily revolts against spare white walls. I like that the colours feel familiar but are more intense than recent years. The furnishings are intentionally selected to pull in local designs and superior quality.
I've included an alphabetical list of items below these mood boards to allow you to easily learn about the designers of your favourite products. Some of these are made by talented makers and craftspeople in British Columbia and available through SMC Interior Design. Visit our Products Page here to learn more.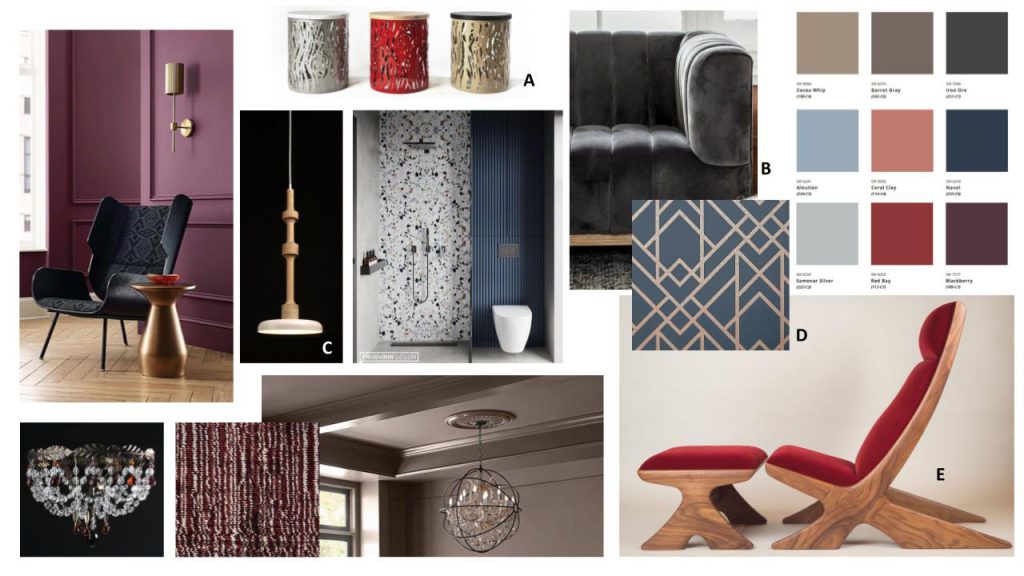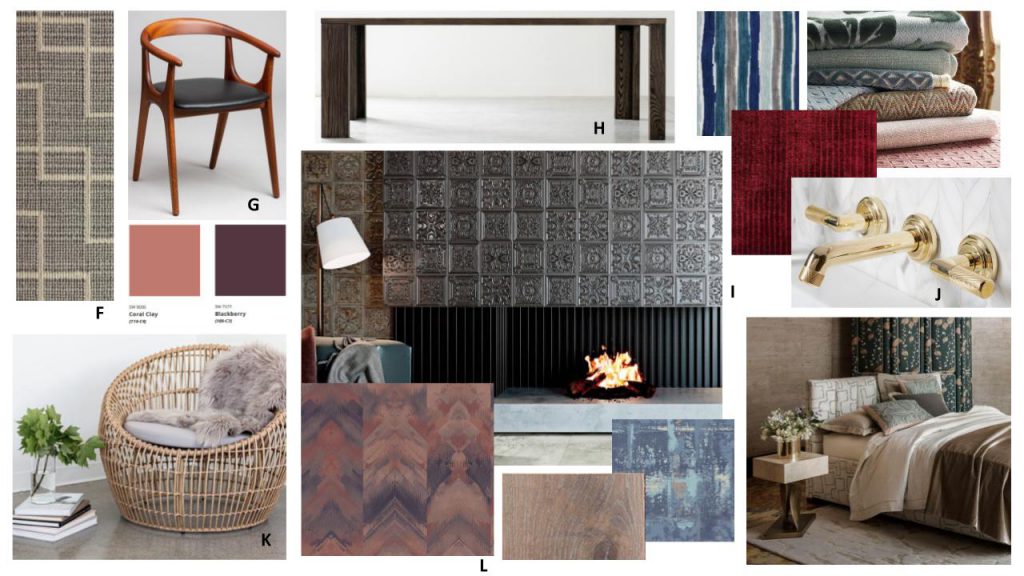 A. Quake Studio, Quake Tables: Cedar bark inspired drum tables, designed by local designer/artist Lisa Turner. Available through SMC Interior Design.
B. Style In Form,Elliot Sofa: A transitional seating option, Art Deco inspired. Available through SMC Interior Design.
C. Propellor Studio Stria Light:A wood pendant created locally by the collaborative designers at Propellor. Available through SMC Interior Design.
D. Maxwell Wallpaper, Metro #01 Midnight: Reflective geometric pattern, deep navy background. Available through SMC Interior Design.
E. Jay Miron Furniture, Orca Lounge Chair:Solid wood chair, designed by designer/maker Jay Miron - sculpted, relaxing, extremely comfortable! Available through SMC Interior Design.
F. Anchor Rug Company, Pacifica: Level loop carpet, poly silk + wool. Available through SMC Interior Design.
G. Jay Miron Furniture, Helen Dining Chair:Elegant, strong chair with curvaceous appeal, by designer/maker Jay Miron. Available through SMC Interior Design.
H. Autonomous Furniture, Jack Table: Solid wood contemporary table locally designed by Kirk Van Ludwig. Available through SMC Interior Design.
I. Centura Tile Vancouver, Gatsby: Wall tile, Victorian era inspired, geometric pattern, modern atmosphere.
J. Kallista,Pinna Paletta: Wall mount faucet, handle pattern inspired by a plume, unlacquered brass.
K. Style In Form, Capri Nest Chair: Sculpted indoor/outdoor resin rattan, very flexible piece. Available through SMC Interior Design.
L. Maxwell Wallpaper, Reflections #02 Copper: Ikat chevron pattern. Available through SMC Interior Design.